What makes us unique
Reduces fluoride by up to 90% with world class USA certified media
Removes 99.99% of harmful giardia, e.coli, salmonella, mould & spores
Keeps the lower tank clean and maintenance free - easy to maintain
Boosts pH of water as many water supplies are acidic
Product Quality Guaranteed
Free Customer Reminder Service when parts are due for replacement
Designed and regularly independently tested on Australian water supplies
Manufactured to our specifications in South Korea
None of our media or any parts are sourced from China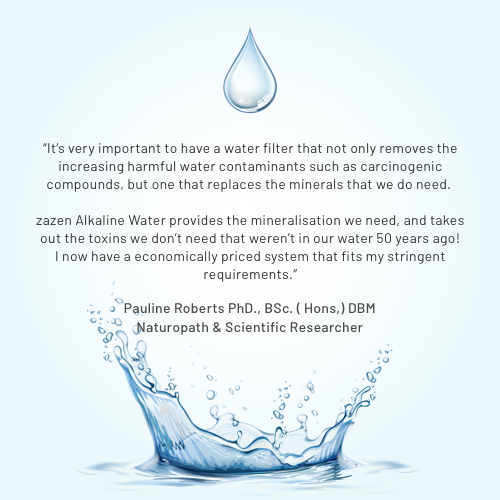 With the zazen philoposhy, we ask a very different question in regards to water. Similar to the Eastern healers, we ask 'What are the properties of water that support 'life' including vitality and wellbeing?' There are 4 key properties which do so:
| Properties for Vitality & Wellbeing | zazen Products to use |
| --- | --- |
| Toxins, contaminants & chemicals must be filtered out | Multi-Stage Filter Cartridge, Ceramic Filter & Silver Stones |
| Must contain a balanced range of alkaline minerals | Mineral Stones & Alkalinity Enhancer |
| Hexagonal structure with small water clusters | 1200 gauss Magnetic Tap |
| Energised, living and bio-available | All 6 parts working synergistically |
Product Details
What's in the Pack
2 x Multi-Stage Filter Cartridge
1 x Ceramic Filter
1 x 500g box Silver Stones
1 x 100g box Alkalinity & Anti-Oxidant Enhancer
Easy to replace - see our videos below
| Attribute | Value |
| --- | --- |
| SKU | 904 |
| Product Life | Multi-Stage Filter Cartridge 6 months, Ceramic Filter 12 months, Silver Stones 12 months, Alkalinity Enhancer 12 months |
| Money Back Guarantee | 90 days |
| Fits | zazen Alkaline Water system. Also fits Nikken PiMag 15 and 10 litre systems. Please advise if you have a Nikken 10 Litre system as we need to send a special Ceramic Filter to fit. |
| Weight (kg) | 2 |
| Packed Weight (kg) | 2.1 |
Installation Guides & Videos
How to replace your zazen Water System parts
How to clean the Ceramic Filter when its discoloured
What our customers say about us
Customer Reviews
Write a Review
Ask a Question
04/01/2020
Naomi c.
Australia
Fantastic
Love Zazen products, always provides their promise
03/31/2020
Wilma A.
Australia
A year on
Love my Zazen water filter, it's my second time using one. I have just replaced all the filters, red rocks and alkaline beads, easy as and will continue to refill and spread the good word.
03/30/2020
Margaret C.
Australia
we are happy with it.
we are happy with it. We are in our third year with Zazen Water.
03/25/2020
Taryn B.
Australia
A years supply is good
Awesome! I love that I'll get a reminder to replace next time too. Buying a whole years worth at once feels good. I'm ready for anything
03/25/2020
Douglas M.
Australia
Super Service
We have been using zazen Water products for years and highly recommend then.
03/15/2020
Lorraine G.
Australia
Such good water
If you want to drink more water this is the way to go it taste so good.
03/09/2020
Julie F.
Australia
Zazen filter purchase
Very Helpful....
03/09/2020
Donna M.
Australia
Great product.
Great service and great product.