90 day Money Back Guarantee In stock Order by 12pm Mon-Fri & we ship same day Free shipping on all orders over $250
zazen Alkaline Water
SKU:
810
Select your Bottom Tank Type:
Add Replacement Parts to my order:
Add a zazen Water Bottle to my order:
What makes us different
Free Customer Reminder Service when parts are due for replacement
Only 5c a litre on tap in your kitchen - no plumbing or electricity
BPA & Phthalate Free with Glass Bottom Tank option
State-of-the-Art 10 Stage Process
Designed & regularly independently tested on Australian water supplies
Reduces fluoride by up to 90% with world class USA certified media
Manufactured to our strict specifications in South Korea
No media or parts are sourced from China
Tastes great (kids love it) just like natural spring water!
| Benefit | Description |
| --- | --- |
| Alkalises | pH around 7.4 (can increase up to 8.5 pH using our zazen Alkalinity & Anti-Oxidant Enhancer), depending on your source water |
| Reduces Fluoride | Up to 90% with our Multi-Stage Filter Cartridge using world-class media certified in the USA |
| Exceptional Quality | Filters harmful THMs, poisonous heavy metals and other bacteria down to 0.2 micron |
| Glass Option | Glass Bottom Tank option - all plastics are BPA & Phthalate Free |
| Tastes Delicious | Everyone loves it, especially kids! |
| Hydrates | Immediately at a cellular level helping to release toxic waste |
| Nourishes | With a balanced range of essential minerals & electrolytes |
| Toxins & Chemical Micro-Filtration | zazen Water |
| --- | --- |
| Chlorine | >99.98% |
| Copper | >99.98% |
| Lead, Iron, Arsenic, Aluminium | >99.98% |
| Fluoride | up to 90% |
| THM'S, Chloroforms | >95% |
Product Details
What's in the Box - zazen Alkaline Water System with BPA-Free Bottom Tank
1 x Multi-Stage Filter Cartridge
1 x Ceramic Filter with silicone washer & filter nut
1 x 500g box of Silver Stones
1 x 1kg box of Mineral Stones
1 x Free box of Alkalinity & Anti-Oxidant Enhancers
1 x Magnetic Tap 1200 gauss with 2 silicone washers
1 x BPA-Free Plastic Top Lid
1 x BPA-Free Plastic Upper Tank
1 x BPA-Free Plastic Middle Ring
1 x BPA-Free Plastic Bottom Tank
1 x BPA-Free Plastic Cartridge Connector
1 x BPA-Free Plastic Stand
Purchase the zazen Alkaline Water System with Glass Bottom Tank, and in addition to all the above parts, you will receive 1 x Glass Bottom Tank.
| Attribute | Value |
| --- | --- |
| SKU | 810 |
| Filter Life | Multi-Stage Filter Cartridge - 6 months (if using more than 12 litres per day, you should replace sooner), Ceramic Filter - 12 months (if you are on tank or bore water, you may need to replace it sooner), Silver Stones - 12 months, Alkalinity Enhancer - 12 months, Mineral Stones - 5 years |
| Product Warranty | 5 years to be free from defects |
| Money Back Guarantee | 90 days |
| Installation | No plumbing or power required |
| Plastic Type | Bisphenol-A (BPA) and Phthalate free |
| Glass Type | Hand blown, blue tinted glass - it is not toughened glass |
| Capacity | 8 litres in lower tank (both BPA-Free Plastic and Glass Bottom Tanks), 4 litres in upper tank |
| Dimensions | Base diameter 315mm Height: With BPA-Free Plastic Bottom Tank 560mm With Glass Bottom Tank 530mm |
| Weight (kg) | 5.3kg including all filters & stones Glass Bottom Tank is an additional 3kg |
| Packed Weight (kg) | 8.9kg Glass Bottom Tank is an additional 3kg |
Installation Guides & Videos
How to prepare your zazen Alkaline Water System ready for use
How to set up your zazen Alkaline Water System with BPA-Free Plastic Tank
How to set up your zazen Alkaline Water System with Glass Bottom Tank
What our customers say about us
Customer Reviews
Write a Review
Ask a Question
11/06/2021
Tastes so good
Amazing water thank you
Tessa T.

Australia
14/05/2021
Satisfied client
We learnt about you filtration system from a mutual friend. We thought our rainwater was good but this now was not the case. We have only received our filtration system for a short time and are already very impressed with the quality of the water. Thank you Zazen.
Greg S.

Australia
05/05/2021
The best, very best :)
Got the Zazen Water system a few weeks ago and have nothing but the most wonderful things to say about it. We live in NSW bushland (4 months Au, 8 months USA) and are on rain water (100.000 liter underground tank), have a filter for our drinking water but although the rain water is clear as crystal, we knew something was amiss. Every morning I was waking up with a headache, and slowly but surely it started to dawn on me that *something* was not right with the water I drank from the filtered rainwater tank. And found Zazen after doing a bit of research, called the company (gorgeous people there :) and bought a set with glass base. So easy to put together and then: test time.. What can I say for the rest? water tasted beautiful, but what is more...next morning no more headache! and now, writing here a few weeks after we bought the Zazen, still never a sign of headache and oh yes, all those little annoying aches and pains in my bones are disappearing as well! :) (the rainwater, we tested before buying the Zazen was very acidic, we didnt know this, but now we do and shall never ever drink a drop of that sort of water anymore but only the mild alkaline water made with the Zazen filter.). We must bring a Zazen filter set with us to San Fran when we go back to the USA, that is for sure.
brigitte

Australia
29/04/2021
A thousand gold stars
Exceed expectations. The taste is pleasing to the sense. My own water intake has increased and more than a few clients have commented that they have been early because they wanted to be able to sit and have a drink when they arrived! Definitely improves the flow of business when clients are regularly ahead of time (pun intended )
Devon H.

Australia
21/04/2021
So fresh, so clean
Ain't nobody dope as me I'm just so fresh, so clean So fresh and so clean, clean
Michael A.

Australia
15/04/2021
Hospital experience
G'day Team, I needed to go to hospital last week regarding a cancer related ailment ( cancer on my pelvis ) I asked my wife to bring my water bottle along and she did that and also brought 2 other stainless bottles so I didn't have to drink tap water at the hospital. I was there for 5 days and the chlorine smell from the taps reminded me why we drink the purest water. Everyday she brought new water along. Thankyou Zazen for a truly wonderful product. Cheers Colin
Colin L.

Australia
07/04/2021
Best Water Filter System Ever...
I purchased the zazen water filter system for the first time back in 2009, and no other water filter system I've ever tried could compare to the taste and quality of the water we drink from our zazen one. We get compliments from visitors all the time about how good the water tastes. My kids won't drink water from anywhere else now, after growing up with our zazen water. So whenever they go out, they always fill up how many bottles of water they need from home before they go out anywhere. Also, the customer service team from zazen are always friendly and helpful. Our family really appreciates our zazen water filter system. Thankyou zazen, you most definitely are the best.. ⭐️
Kristy N.

Australia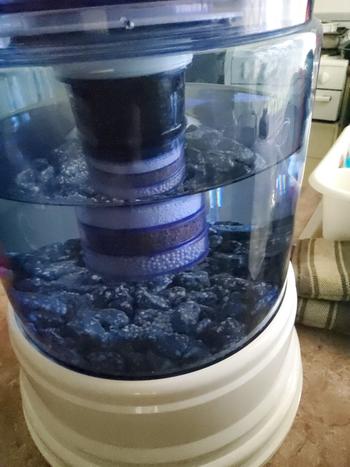 07/04/2021
Yummy water
Yes we are quite pleased with the Zazen water filter. The choice was made to use Zazen because of parts and equipment back up in Brisbane. Also we had a friends recomendation. Yup yummy water.
Jack B.

Australia
05/04/2021
Absolutely love the zazen water filter
Water taste amazing. Feel much more energized and excited to drink water now. Couldn't imagine drinking tap water on a daily basis anymore.
Aloise L.

Australia
04/04/2021
Professional Service
I am always impressed with the product, parts, service and delivery. I remember several years ago: I sent an email about a concern I was having with the unit. I had a phone call within an hour giving me tips how to fix the concern. The only problem with the Zazen water is that I now can't drink any other tap or bottled water. They just taste weird. This means filling 20 litre containers every time I go away. Ha ha ha.
Adrian S.

Australia
04/04/2021
Great tasting water
We bought this last month. Very easy to use and the water tastes great. Easy to use. Definitely recommend.
Yekaterina P.

Australia