What makes us unique
Boosts pH of water as many water supplies are acidic
Product Quality Guaranteed
Free Customer Reminder Service when parts are due for replacement
Designed and regularly independently tested on Australian water supplies
Manufactured to our specifications in South Korea
None of our media or any parts are sourced from China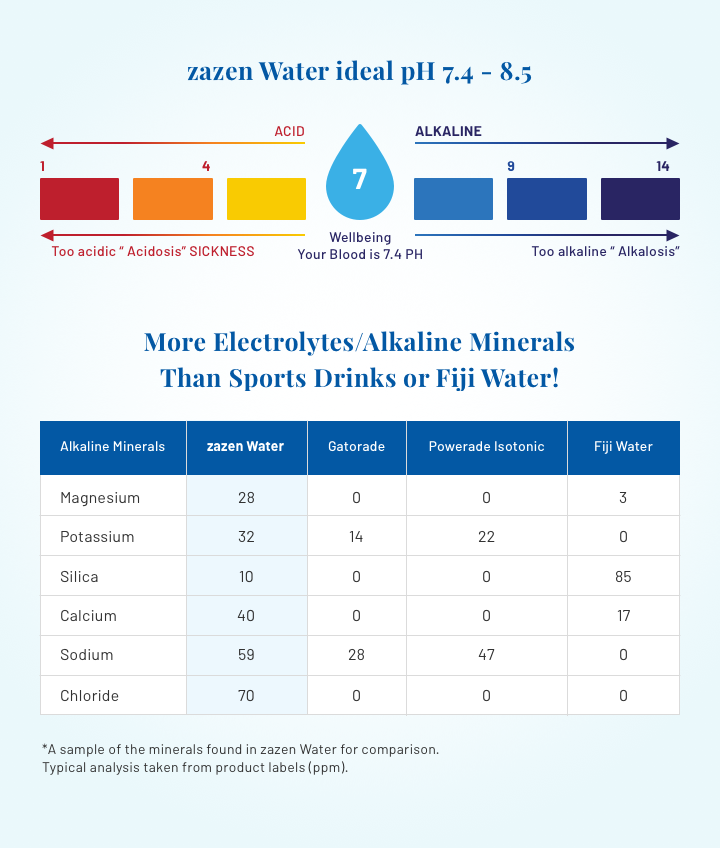 Our zazen Alkalinity & Anti-Oxidant Enhancer helps to increase the alkalinity and health benefits of your drinking water by releasing ionised magnesium.
| Benefit | Description |
| --- | --- |
| Alkaline | Increases the pH and alkalinity, essential minerals and antioxidants in your water. |
| Ionised Minerals | releases additional ionised minerals, further enhancing the alkalinity and pH of water. |
| Anti-Oxidant | increases the antioxidant benefit by lowering the ORP of water aiding in neutralising free radicals. |
| Far Infrared | increases Far Infrared (vibrational energy) said to assist blood purification, promote growth and inhibit harmful metal ions. |
Zazen was recommended to me by my naturopath. I have had my system for several years now & I drink about 4 litres of water a day plus use the filtered water for cooking & to water my indoor plants. I definitely recommend this company & its products. I especially appreciate the reminders when it is time to replace various parts of my Alkaline Water system.
Catherine M, happy customer since 2015
Product Details
zazen Alkalinity & Anti-Oxidant Enhancer 100g Box
Replace every 12 months
Easy to replace - see our video below
| Attribute | Value |
| --- | --- |
| SKU | 8010 |
| Purpose | Increase the alkalinity and anti-oxidant benefits of your water |
| How to Use | Sprinkle into the bottom tank of your zazen Water system along with your zazen Silver Stones and Mineral Stones |
| Product Life | 12 months |
| Money Back Guarantee | 90 days |
| Weight | 100g box |
| Packed Weight (kg) | 0.15 |
Installation Guides & Videos
How to replace your zazen Water System parts
How to clean the Ceramic Filter when its discoloured
What our customers say about us
Customer Reviews
Write a Review
Ask a Question
25/02/2020
anti oxidant enhancer
I have been using this product for a long time, and I notice the difference when drinking tap water.
Fiona T.

Australia
18/12/2019
Refills
5 star, arrived quickly Thanks
Gerry M.

Australia
17/12/2019
Great product
Have used Zazen for years - great product, love the water. Definitely recommend!
Jill H.

Australia
17/12/2019
A long time product user
We first purchased our zazen water purification system some 4 years ago and it is used daily very much to our satisfaction.
Jeanette J.

Australia
17/12/2019
Very good experience. I originally
Very good experience. I originally before purchasing the zazen alkaline system had some questions and zazen was quick to respond and were very helpful. The system arrived very quickly and I am so happy with it. My kids love it and can easily get water for themselves now - which is an extra bonus.
Sally M.

Australia
17/12/2019
Deliciously refreshing water
Love the water filter and the alkalinity of the water. Great for all round health and wellness. Thank you...
Savva E.

Australia
24/07/2014
I LOVE my Zazen water! I swear it is the closest I can get to good pure mountain water without going to the mountain! My eyes were much clearer within the first week and even my basil plant is so happy now that I've been watering it with Zazen! Can't thank you enough! Feel free to quote me :) Sophia Warren, Edge Hill Qld