What makes us unique
Removes 99.99% of harmful giardia, e.coli, salmonella, mould & spores
Filters particulates down to 0.2 microns
Product Quality Guaranteed
Free Customer Reminder Service when parts are due for replacement
Designed and regularly independently tested on Australian water supplies
Manufactured to our specifications in South Korea
None of our media or any parts are sourced from China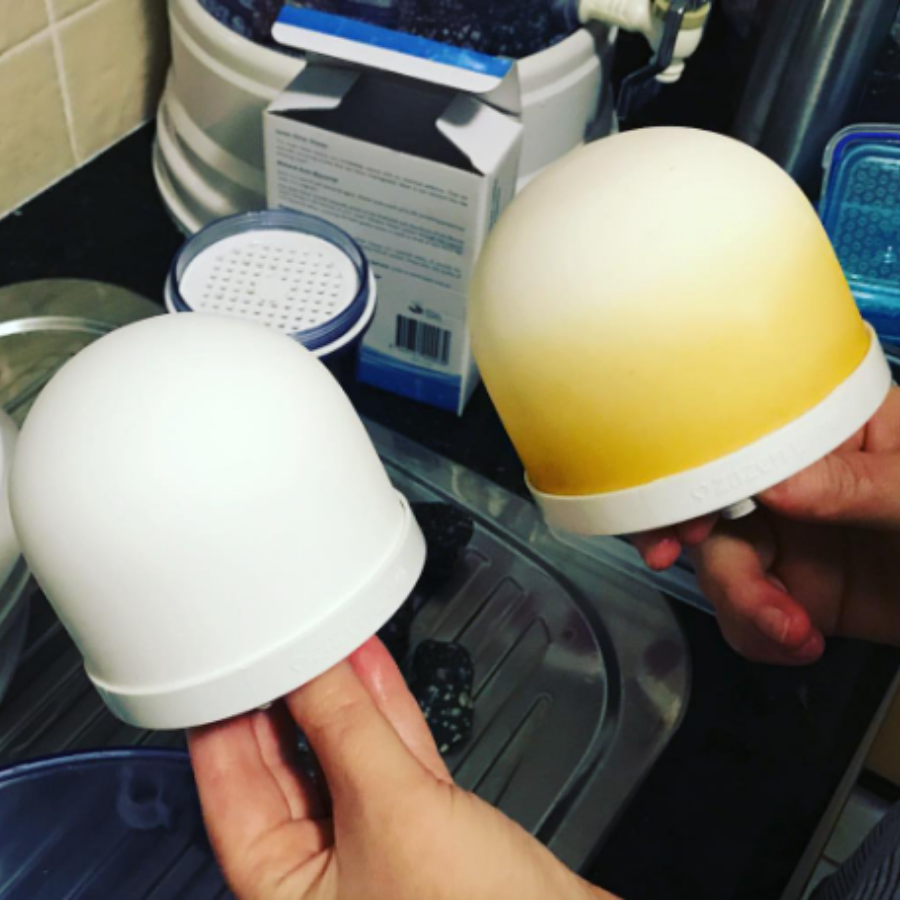 The zazen Ceramic Filter pre-filters rust, sediment and organic matter and stops bacteria, cysts, parasites and other micro-organisms that are present in water supplies. The quality of the zazen filters is critical for effective micro-filtration. This is essential so your body is not the filter!
---
My family and I have been using the Zazen system for almost a year and it's the best purchase we have ever made. The water tastes so clean and I find it impossible to drink tap/bottled water now. Anytime we have guests over, I get them to try the water and everyone agrees it's just so much better. You can really see just how dirty tap water is when you go to clean the ceramic filter. I will use this for the rest of my life – I love zazen!!
Lucy G, happy customer since 2015
| What's in your Water | Micron Size | zazen Ceramic Removes |
| --- | --- | --- |
| Rust, Mould & Spores | 3 + | > 99.99% |
| Asbestos | 0.7 - 90 | > 99.99% |
| Sediment | 1 + | > 99.99% |
| Cryptosporidium & Giardia | 4 + | > 99.99% |
| E.coli & Salmonella | 0.3 - 0.5 | > 99.99% |
Product Details
zazen Ceramic Filter
Replace every 12 months
Easy to replace - see our video below
Is your Ceramic looking discoloured like the picture above? Great news, it's doing its job! Watch the video below to see how to clean it without any detergents so it continues to do a great job.
| Attribute | Value |
| --- | --- |
| SKU | 802 |
| Purpose | Pre-Filtration of rust, sediment, parasites and bacteria |
| Filter Life | 12 months (if you are on tank or bore water, you may need to replace it sooner) |
| Money Back Guarantee | 90 days |
| Plastic Base | Bisphenol-A (BPA) Free |
| Fits | zazen Alkaline Water system. Also fits Nikken PiMag 15 and 10 litre systems. Please advise if you have a Nikken 10 Litre system as we need to send a special Ceramic Filter to fit. |
| Weight (kg) | 0.25 |
| Packed Weight (kg) | 0.3 |
Installation Guides & Videos
How to replace your zazen Water System parts
How to clean the Ceramic Filter when its discoloured
What our customers say about us
Customer Reviews
Write a Review
Ask a Question
12/08/2020
Very satisfied
Customer Service excellent
roberto v.
Australia
22/06/2020
filters
It's hard to compare my old Nikken filters to yours,just by tasting the water.I could make a better judgement if I was drinking out of two different machines at the same time.That's pretty much all I can say!
patrice D.
Australia
08/06/2020
Excellent service
Once again, speedy delivery, great communication and very helpful when delivery was held up. Can't recommend enough!
Monique D.
New Zealand
28/04/2020
Excellent service
100% satisfaction guaranteed.
Joanne A.
Australia
28/04/2020
Quick & Reliable
I've only just installed it!
Bill H.
Australia
20/04/2020
Great product
Very happy with Zazen, Great product and wonderful customer service
Noelle J.
Australia
10/04/2020
Quality Customer Service
Everyone was helpful and the product was delivered in a timely manner
Sheldon S.
Australia
25/02/2020
zazen Ceramic Filter
Excellent very happy
lola k.
Australia
21/01/2020
Ceramic filter
Although it's pricey. The ceramic water filter is a great product. It really makes a big difference to my water quality
Robert M.
Australia
01/01/2020
Zazen water
I can't believe how fast the products arrived at my place, they went above & beyond when they rang me to say my address was incomplete so after giving them correct info the water ceramic filter mineral stones were on there way. Thank you
Heather T.
Australia
13/10/2014
We only had the luxury of rain water when we lived rurally. When we moved into surburbia and tasted the treated water, it tasted and smelt like pool water! ( also our council adds flouride to the water) No matter how we persisted with trying to adapt to town water, we couldn't seem to enjoy it and water is our main source of a drink. We tend not to drink anything else. So naturally we went for a Water Filter System like Zazen.We've had our Zazen Tank for over two years , with no regrets! The water tastes fresh, with no chemical smells. & It sits on the kitchen bench, and our kids love helping themselves, not to mention our friends who come over and eagerly want to have an inviting glass of water. The whole system looks fresh and inviting. I sourced my Zazen Tank locally and have found it worth every penny! We are so happy with the product. Its somehing we'll have forever and will cherish!